Watch the National Rapporteur at TEDx
On Saturday 1 December Corinne Dettmeijer, the Dutch Rapporteur on Trafficking in Human Beings will speak about modern day slavery at TEDxAmsterdamWomen.
You can watch her TEDtalk about human trafficking live via the livestream provided by the event organizers. Tune in on Saturday 1 December at 11:15 (GMT+1) via the link below.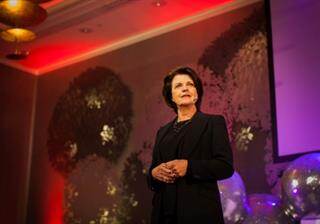 Slavery: right here, right now
In her speech, entiteld "Slavery: still here, right now" Corinne Dettmeijer will show that slavery is not something from the past. On the contrary: modern slavery is all around us, and it is flourishing. In our own country. It is nearer than you might think. It's in all of our lives. Yours too.
But it is not just bad news
Inspired by the theme of the event ("dare to choose"), Corinne Dettmeijer will encourage and inspire the audience to do something about human trafficking. Because everyone can.   
 
How?
Lose the romantic image of prostitution.
Some people like to believe in the image of independently working Dutch women occupying red light districts. "Yes, there are women there who work independently. But we also know that many women are being forced. And there is nothing romantic about that", the Rapporteur said about that. Watch the video Emma Thompson made for the exhibition called Journey (Helen Bamber Foundation) and all romantic ideas about prostitution will evaporate.

Think about what you buy.
Stop and wonder why some products are so cheap. Think about how they were made, and who made them. Who produces your clothes, your phone? Who picks your vegetables? Modern slavery is in our supply chains. Calculate how many slaves work for you on the website Slavery Footprint.

See victims of trafficking in human beings for what they really are.
Corinne Dettmeijer: "Not as cheap labour. Not as whores. See them as human beings."
Missed the event?
A video of the TEDtalk will be available on YouTube afterwards.